---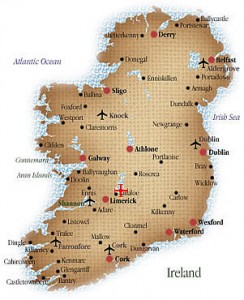 Ireland Facts
Ireland is an island to the north-west of continental Europe. It is the third-largest island in Europe and the twentieth-largest island on Earth. To its east is the larger island of Great Britain, from which it is separated by the Irish Sea. The population of Ireland is approximately 6.4 million. Just under 4.6 million live in the Republic of Ireland and just under 1.8 million live in Northern Ireland. The island of Ireland historically consists of 32 counties, of which six, collectively known as Northern Ireland, have remained as part of the United Kingdom since the rest of Ireland gained independence in 1922. Relatively low-lying mountains surrounding a central plain epitomise Ireland's geography with several navigable rivers extending inland. The island has lush vegetation, a product of its mild but changeable oceanic climate, which avoids extremes in temperature. Thick woodlands covered the island until the 17th century.
Visa Requirements.
Ireland is a member of the European Union, Citizens of EU and EEA countries (and Switzerland) only require a valid national identity card or passport. Nationals from Australia, Canada or the United States only require a valid passport and can stay for a total of 90 days.
Transport
The Republic of Ireland is served by 4 international airports, Dublin, Shannon in County Clare, Cork and Ireland West, Knock in County Mayo. Shannon Airport is only 50KM from Freaghwood Cottage and provide best access to our Lough Derg Cottage. Ireland's two major airlines Aer Lingus and Ryanair are low cost carriers.
Irish Rail – http://www.irishrail.ie , Use the website to buy train tickets, reserve seats, check train times, destinations, new trains and information useful for your rail journey.
There are many car hire companies in Ireland and you can pick up in the cities or at the airports.
Driving and road rules in Ireland are similar to those of the United Kingdom – e.g. drive on the left and yield to the right on roundabout.
Climate
Overall, Ireland has a mild but changeable oceanic climate with few extremes. In Ireland you may indeed experience 'four seasons in one day', so pack accordingly and keep up-to-date with the lastest weather forecast. No matter the weather, expect it to be a topic of conversation amongst the locals.